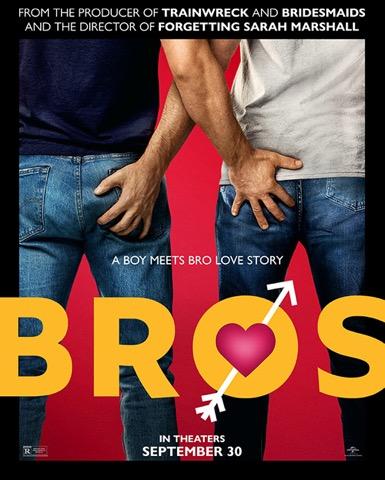 1. Billie Eichner…
What makes for a captivating leading personality? It's a nuanced answer, as performers offer as many different box office draws as there are different kinds of films. When was the last time you went to see a movie because it had a superstar comedian at the center of its narrative? I gave myself a minute to rack my own brain. These are the following comic personalities I bought a ticket for just to see them in a film I wouldn't have otherwise watched: Melissa McCarthy, Seth Rogen, Steve Carell, Tina Fey, Amy Poehler (cuz of course), Kevin Hart, Will Farrell, and… TIME! I thought of a few other powerful comic presences who sell a lot of tickets, but these gentlemen (The Rock, Chris Pratt, Kumail Nanjiani, Channing Tatum, etc.) are all action-stars in their own right too. There are a ton of niche comedians I truly love nowadays, but none of them come close to the big guns above. It's less about whether or not Billy Eichner is a good actor or even a good comedian. It's more about the fact that when you play the numbers game, he's not a big box-office draw. 
Billy Eichner is not yet a film-carrying presence. This is not a statement based on the measure of his talent or even his ability to carry a film. Unfortunately, I had to measure this based on our current collective cultural perception. He cornered a niche market with "Billy On the Street," and he has shown up in fun character parts here and there. It took Tina Fey SNL, mega-movie hits like "Mean Girls," and a classic TV show before she became a true household name as a comedian, writer, and actress. Billy Eichner is talented and certainly capable of all Tina Fey adjacent accolades, but he just doesn't have the cred right now to justify leading "Bros." As successful as he is, the world is still deciding how they feel about him.
I wish things were different, but if a straight comic powerhouse played the lead role, then things might've been different. Imagine if any of the big Chris' had played one or both of the two leads. I mean, Chris Evans sucking Chris Pine's toes has a certain appeal to it. Hot straight boys going gay is a serving that often sells like hot cakes (and with Evans and Pine on board, the cakes would be quite hot indeed). What blows me about the generalization I draw upon is that this (like most everything I'm writing about) is only a better decision from a business perspective. I am not saying that Chris on Chris wouldn't slap, but Billy Eichner and his costar Luke MacFarlane are perfectly well cast in the movie. There's nothing miscast about them! They just don't signal to those on the fence about the whole, um, GAY thing (did you know this movie had huge homosexuals (and BEYOND) in it!?) that the water is fine. I didn't ask for humans to be built this way, but many of us are… That reminds me… WATCH OUT FOR THE QUEER THEORY ABOUT "JAWS!" You can't see it, but it's there. 
It's possible Eichner saw "Bros." as his big break, and he performs the character admirably! But hunty, films are less and less vehicles for single actors these days anyway. Even the biggest stars who people will go see in any gem OR piece of shit like Tom Cruise, Brad Pitt, Will Smith, and Leonardo DiCaprio are few and far between. The days of Jim Carrey, Robin Williams (RIP, legend), and Eddie Murphy selling tickets based on the laughs they'd bring are gone. We don't digest comic films based on singular performances as much, and even the Apatow class seems to have graduated out. What are we showing up for then? The answer is (I ascertain)…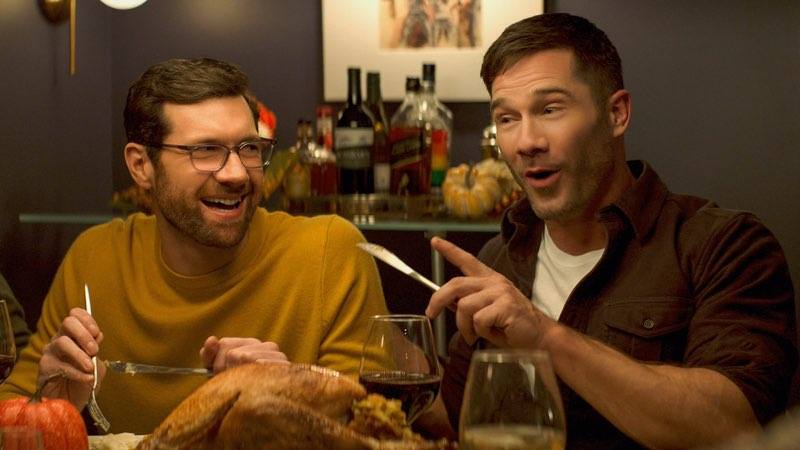 2. A Bankable Premise…
Three friends go on a fool's journey to find their missing friend on the eve of his wedding day… A bridesmaid competes for the affection of her best friend with one of her best friend's impressive new friends on (yep, again) the eve of her wedding… two underaged friends go on misadventures to acquire booze for a high-school party… a bunch of friends take a hot tub time machine… An assistant's high-powered boss is a DEVIL… an ambitious writer discovers HOW TO LOSE A GUY IN TEN DAYS… a motivated career woman gets KNOCKED UP by a loser… Two men fall in love, learn about their relationship dynamic, and ultimately find security together… *cue record scratch* – Now stop right there, my fellow Mary. This Queen (MUAH!) lives for, not only a gay relationship film, but a relationship film of any kind. The Linklater "Before" trilogy is where my heart lives. However, those films found a home inside the Angelika around Oscar season. Relationship films aren't blockbusters, and most "Marriage Stor(ies)" are actors going for the gold. They aren't blockbusters by design, so "Bros." didn't exactly establish enough beyond the admittedly VERY charming dynamic between its two bright stars. 
What we can surmise is that this film was pitched as a "rom com." Romantic comedies are very different from traditional comedies in terms of who they appeal to. I grew up in the 90's, and I know that one of these people was my mother. If I had a nickel for every time I watched "My Big Fat Greek Wedding," I could finance my own rom com. But even if I could, I wouldn't. Well, that's a lie. I totally would, but not for very much dough. Success for romantic comedies on the big screen used to be baked in like a "Mystic Pizza." What changed? "When Harry Met Sally" was long ago (was that a hit when it came out?). Julia Roberts, Goldie Hawn, Jennifer Garner, Jennifer Anniston, Jennifer Lopez, Ginnifer Goodwin, Jennifer Love-Hewitt, and all the other bankable Jenniferz are doing other things right now (I don't know what exactly). There are romantic comedies in theaters, yes, but I haven't taken serious note of one since "the Big Sick" in 2017. Love, actually is all around us, this is true. But where did it go!? 
Open your apps… Streaming exists! People don't go to the big screen movie multiplexes for love as much as they used to! Nowadays, they go to the theaters for BIG EVENT FILMS! The biff, pow, bangs of it all! Rom coms commonly get people horny. Horny in a theatre? Wait. Horny on the couch? Fuck! There's lightning in a bottle if you make a good movie while mixing genres. "Deadpool," a violent comic book movie that framed itself as a love story, proved this. But it's a hard sell to pitch ONLY a romantic plot and to NOT cast main characters the general audience can identify with. 
Let's pause the review to talk about this for a bit. Yes, we're in the streaming world now, so PAUSE! When I say identification, I mean it in the most literal sense. The truth is, a person of any sort can identify with an onscreen character of any sort. Most of my role models as a kid were the Disney villains, so if I do in fact have magical abilities or tentacles or the ability to transform into a dragon, I promise you, I don't know that I do, or I would have activated those abilities long ago… so, when I say the general audience, who is statistically, profoundly straight, doesn't "get" what these two *beeps* are talking about, it's not that they can't to some degree, it's that those who don't put in the work to embrace connection sans projection just won't.
Feel free to drop me comments with examples of big budget rom coms from the last few years, but I can't think of one other than "Crazy, Rich Asians." I'm sure they exist, but I can't recall any of them having a "No Way Home" or "Dune" reception. None of them were THE MOMENT, and Billy's film definitely wasn't/isn't. The film achieved everything it set out to do. The love between the leads was believable, the jokes were hilarious (to me, a gay man), and the story had a clear beginning, middle, and end which felt earned and authentic. "Crazy, Rich Asians" achieved all of this too, but what did it have that "Bros." didn't? Well, you see, the thing about getting certain demographics to see great movies like "Crazy, Rich" and less-good movies like "Fifty Shades of Grey" is…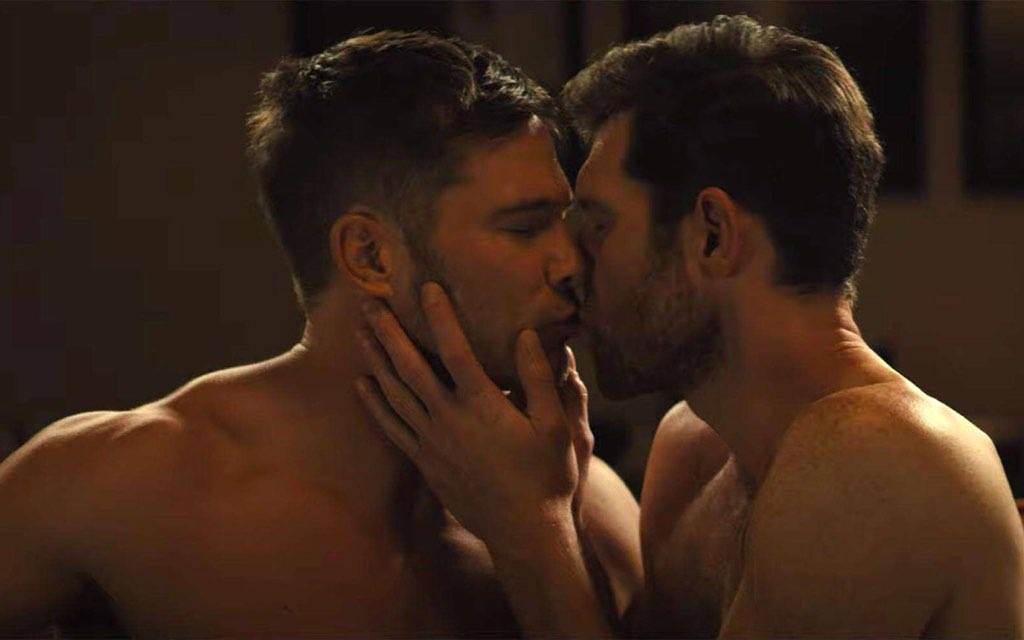 3. Projection…
"Fifty Shades of Gay" would be a great time for me. I would love nothing more than to sit down for Ben Whishaw receiving willful domination at the rugged hands of his kink-positive boss played by Wentworth Miller. Now while I could definitely get Suzie, Martha, and my good Judy to show up as friends, they most likely aren't gonna go with their Billy or Bob. Moreover, Billy or Brad ain't gonna take 'em! Some will! Yes. Cálmate! Praise to our amazing allies who can see films that are not about themselves and about subjects they do not immediately understand wholeheartedly. Praise to the people who go see film for film, regardless of who is on screen. PRAISE to those who embrace stories about people who don't share their experience of the world! Yes, praise them… but they, yes them, are NOT the majority. We now have clear, monetary evidence of this. Speaking of things that are evident…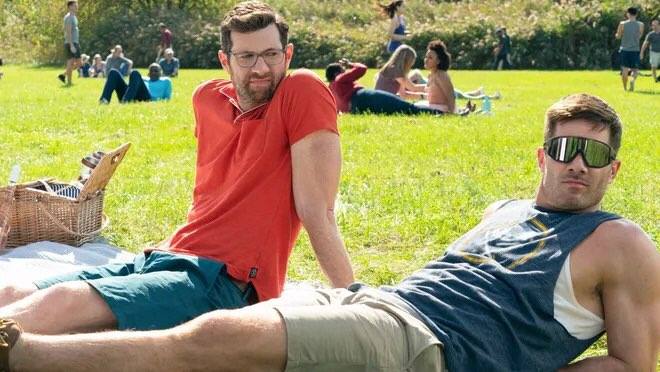 4. The Marketing was Not Strategic…
The line "Remember straights? They had a good run," ends at least one of the theatrical trailers for this film. This line is a clever joke because, if you aren't in fact living under a rock next to Patrick the Starfish, you know that the straight world is still very much "the world." Turn on your TV… Watch an ad on YouTube… Walk into a store with ads… hell, walk outside period. There is no risk of the straights not being the moment. That's why this line is a joke told by a character who is an lgbtq advocate working in lgbtq advocacy. Post joke, the other queer characters affirm the joke in their own knowing ways and the trailer ends. Harmless, one would think. Wrong. You see, there are many people who, I'm sure, watched this part and thought "ok, they're laughing at me. They don't want me in the room. I won't be there then."
I am not saying it played out EXACTLY like that for anyone in particular. It's just my theory that something adjacent occurred on a large scale. It's a daring move to cast your film with a high percentage of queer performers and make it clear in the trailer that this is a film FOR queer people. There's nothing wrong in doing this, but with no "in," why did Eichner and the other creators think people not invited to be in on the joke would show up for the joke? There are a ton of straight people who are secure enough in their sexuality to laugh at this sort of thing. I'm a white man, a gay one yes, but a white one. Laughing at jokes aimed at white people is one of the many ways I show up as an ally for people of color. Laughing at jokes aimed at men is one of the many ways I show up as an all for my female and non-binary family. It is, in fact, healthy to laugh at yourself. There's likely a reason if you're taking a joke super seriously, and only when you can't laugh at a joke is it clear that something in what was said threatened you. 
It may not be that people were threatened by the inherent gay-centricness of the commentary in "Bros." This may have been a simple case of "I won't get it," or some combination of my two theories. I could be totally *beeping* wrong. It just seems to me like the film shouldn't have budgeted so high. You can make a movie for a subculture of people without concerning yourself with the comfort level of the ruling class. That's every creator's right as a generator of ideas. But when you assert that right while failing to encourage people outside your target demographic to show up and THEN take to social media and complain about profits… Mama, I couldn't help but wonder…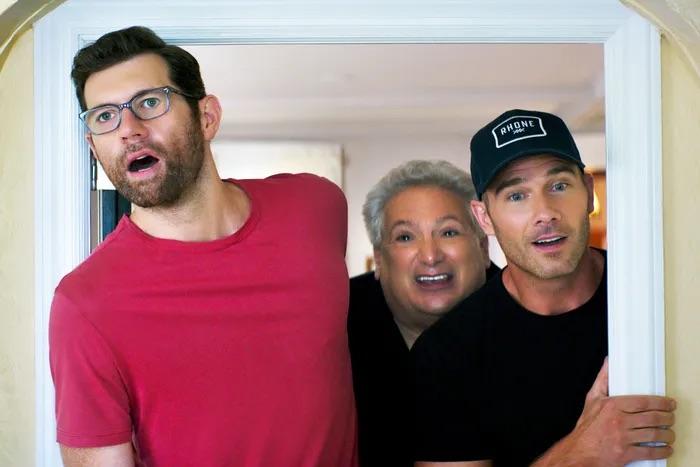 5. Were People Avoiding "Bros." because they thought it was…
A. Propaganda for children
B. Asking straight people to be turned on by gay sex and virtue signal that it is "so hot" when in fact they think it is "so not"
C. Using Eichner's character as a cipher for… oh my God, I am going to say it… THE GAY AGENDA!
D. *gulp* Poking *double-gulp* fun at heteronormativity
Or…
Eeeeeeeeeek! – An assertion of one's general terrible-ness if you saw the trailer and didn't leap out of your chair with glitter, condoms and your finger on the PURCHASE TICKET NOW button!
Let me finish my mad (potentially self-important and annoying) ramblings with a quick, succulentabulous, succinct surmise on all aforementioned letters. (Publicists, please use the following section to gauge my ability to write clearly and concisely.) 
 #happytree
I want you to go see "Bros." Yes, you. It's a good time for anyone over the age of eighteen. If you found yourself dissuaded by any of the letters above, then please, allow me to affirm that none of those things are true. If you're terrible, you know it. If you don't know it, then you should. "Bros." has nothing to do with your awareness or lack thereof, and it doesn't, actually, have anything to do with you. If you use the film to praise creators or spread hate speech or anything in between, that is only a reflection of you. Nobody can paint your rainbow, baby. You must be your own Bob Ross… or Ross Matthews… See? If you knew who I just referenced, you're ok. If you didn't know who I just referenced, you're also ok. We are ok. Now… let's finish. 
A. This movie is not propaganda for children. There are scenes where a pushy, pig-headed, intellectual queer man asserts his opinion that elementary school kids should be taught queer history. If you are an adult, you can rest knowing that this is a movie scene motivated by characters with objectives and personality flaws. Adults, you're ok. I promise you are. Just breathe and quite frankly, feel the way you want to feel. Now, if your kids see this and you didn't want them to, that's not the film's fault. This movie is not rated to include children, so any messaging they get from the movie (which isn't meant to be seen by them) is a reflection of parenting style and not the movie itself. 
B. My favorite modern comedy is "Forgetting Sarah Marshall." There are many scenes of heterosexual references to genitalia, penetration, orgasm, etc. Vivid sexuality is depicted (and performed admirably) by the cast. We see humping, thrusting, licking, oral, and more. I was not turned on. I loved the film and knew it was ok that I did not get hard watching the sex. I knew that the sex was a part of the comedy and understanding the characters. It is in fact not wrong to watch simulated consensual sex and not be turned on. If you don't get a boner for "Bros," that is perfectly acceptable. Come for the performances and story, stay for the completed lgbtq museum. 
C. Eichner may have had an agenda when writing the character. He's a writer. I'm a writer. We all do. It's what we do! We have ideas and we want people to invest in them. We want that investment so badly that we toil for years and years and years and… *breathing* So yes, he probably wanted you to feel certain things. Writers who don't make those choices leave us with hollow work. The good news is that we can accept or reject any idea we are given. Trust that most of Eichner's ideas are also justified by the character he wrote for himself to play. He's just one guy, one single gay. He doesn't represent me or any other gay man. Take him or leave him, but no, he is not representative of every homosexual male. 
D. Ok, sure. There are jokes at straight expense. But you know what, there are jokes at queer expense. Some of the funniest shit was when Eichner laughed at how stupid club going gays were, commenting on the cultural illusion of their ability to "do stuff," as J Cool put it. Omg! Another amazing Jennifer! Here's the good news, it's all in good fun. Everyone is a target in this comedy. Nobody escapes the ravenous jaws of Billy Eichner. Have fun! Friends read friends. 
And finally…
E…
You are not bad if you didn't see this movie. Don't let anyone tell you otherwise. Not every gay movie is for me. Also, there are A LOT of queer people who haven't seen "Bros." This bomb cannot be attributed to straight people single-handedly. That very notion is silly. Please continue to digest the media you like to digest. A movie is just a movie, and no movie is a reflection of what is bad about you. 
That's what I'd like to end on. If you're out there and think that any media not being for you means that you are not for this world, then I encourage you to seek companionship and compassion in those you love. Seek the same things within and love yourself too. That's easier said than done for all of us on this lonely ball of blue, but have faith in our Goddess, Ru. You are special and unique. Whether you exclusively watch reruns of the Office or obscure slasher films from the late 70's, your tastes are fine because they are yours. There's no need to compare what you like to what other people like. Believe in the essential truth that you were made just the way you were supposed to be made. Show up for others when you can, be a force for good, and maybe take a little bit of time to expand your horizons here and there. But most of all, show up for you. Ticket or no ticket, "Bros." did not fail because of you. 
Now head on over to my obscure queer film festival that's literally designed to embrace a repressed subculture of creative powerhouses and buy a ticket for you and your entire adult family. Our rainbow is roomy!